Microsoft Patch Tuesday, April 2021 Edition
Microsoft today rolled out updates to plug at least 110 security holes in its Windows operating systems and other software.
Yes, it's time once again to use WuInstall!
Get back full control on windows update by using Wuinstall.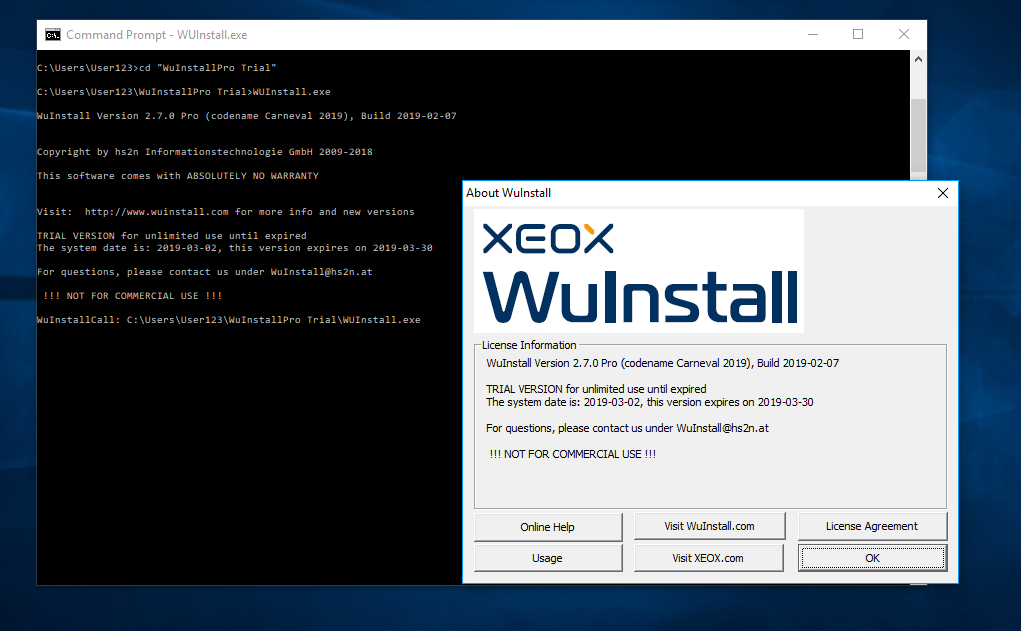 The April 2021 Patch Tuesday Security Updates
Security Updates are available for the following software:
Azure AD Web Sign-in
Azure DevOps
Azure Sphere
Microsoft Edge (Chromium-based)
Microsoft Exchange Server
Microsoft Graphics Component
Microsoft Internet Messaging API
Microsoft NTFS
Microsoft Office Excel
Microsoft Office Outlook
Microsoft Office SharePoint
Microsoft Office Word
Microsoft Windows Codecs Library
Microsoft Windows Speech
Open Source Software
Role: DNS Server
Role: Hyper-V
Visual Studio
Visual Studio Code
Visual Studio Code - GitHub Pull Requests and Issues Extension
Visual Studio Code - Kubernetes Tools
Visual Studio Code - Maven for Java Extension
Windows Application Compatibility Cache
Windows AppX Deployment Extensions
Windows Console Driver
Windows Diagnostic Hub
Windows Early Launch Antimalware Driver
Windows ELAM
Windows Event Tracing
Windows Installer
Windows Kernel
Windows Media Player
Windows Network File System
Windows Overlay Filter
Windows Portmapping
Windows Registry
Windows Remote Procedure Call Runtime
Windows Resource Manager
Windows Secure Kernel Mode
Windows Services and Controller App
Windows SMB Server
Windows TCP/IP
Windows Win32K
Windows WLAN Auto Config Service
Information about the updates:
Windows 10 updates are cumulative. The monthly security release includes all security fixes for vulnerabilities that affect Windows 10, in addition to non-security updates. The updates are available via the Microsoft Update Catalog. For information on lifecycle and support dates for Windows 10 operating systems, please see Windows Lifecycle Facts Sheet.
Microsoft is improving Windows Release Notes. For more information, please see What's next for Windows release notes.
A list of the latest servicing stack updates for each operating system can be found in ADV990001. This list will be updated whenever a new servicing stack update is released. It is important to install the latest servicing stack update.
In addition to security changes for the vulnerabilities, updates include defense-in-depth updates to help improve security-related features.
Customers running Windows 7, Windows Server 2008 R2, or Windows Server 2008 need to purchase the Extended Security Update to continue receiving security updates. See 4522133 for more information.
The following KBs contain information about known issues with the security updates.
| KB ARTICLE | APPLIES TO |
| --- | --- |
| 4504715 | SharePoint Server 2019 Language Pack |
| 4504716 | SharePoint Server 2019 |
| 5001330 | Windows 10, Version 2004, Windows Server, Version 2004, Windows 10, Version 20H2, Windows Server, Version 20H2 |
| 5001332 | Windows Server 2008 (Security-only update) |
| 5001335 | Windows 7, Windows Server 2008 R2 (Monthly Rollup) |
| 5001337 | Windows 10, Version 1909, Windows Server, Version 1909 |
| 5001342 | Windows 10, Version 1809, Windows Server 2019 |
| 5001347 | Windows 10, Version 1607, Windows Server 2016 |
| 5001382 | Windows 8.1, Windows RT 8.1, Windows Server 2012 R2 (Monthly Rollup) |
| 5001383 | Windows Server 2012 (Security-only update) |
| 5001387 | Windows Server 2012 (Monthly Rollup) |
| 5001389 | Windows Server 2008 (Monthly Rollup) |
| 5001392 | Windows 7, Windows Server 2008 R2 (Security-only update) |
| 5001393 | Windows 8.1, Windows RT 8.1, Windows Server 2012 R2 (Security-only update) |
| 5001779 | Microsoft Exchange Server 2019, 2016, 2013 |
More Information:
https://krebsonsecurity.com/2021/04/microsoft-patch-tuesday-april-2021-edition/
https://msrc.microsoft.com/update-guide/releaseNote/2021-Apr
https://wuinstall.com/index.php/blog-list/item/24-how-to-force-windows-2004-feature-upgrade-os-build-19041-to-install-using-the-command-line.html
https://windowsreport.com/windows-10-patch-tuesday-update-history/