How to force Windows 2004 feature upgrade (OS Build 19041) to install using the command line
To ensure you continue to have a reliable, productive experience with your Windows 10 devices, Microsoft measured and phased approach to how they offer the May Update, initially limiting availability to those devices running Windows 10, versions 1903 and 1909 who seek the update via Windows Update.
Beginning in June, the May 2020 Update is available for customers who would like to install this latest release. If you are ready to install the update, open your Windows Update settings (Settings > Update & Security > Windows Update) and select Check for updates. Once the update appears, you can select Download and install. (Note: You may not see Download and install on your device as we are slowly throttling up this availability over the coming weeks, or your device might have a compatibility issue for which a safeguard hold is in place until we are confident that you will have a good update experience.) Once the download is complete and the update is ready to install, we'll notify you so that you can pick the right time to finish the installation and reboot your device, ensuring the update does not disrupt your activities. This new "Download and install" capability is available for devices running Windows 10, version 1903 or version 1909. For more information on the new user update controls and how to get the May 2020 Update, watch this video.
You can do this manually by using the control panel.
Or, you can also use wuinstall.
Download wuinstall 30 days trial

Extract ZIP file

Open Administrator Command Prompt

Type: wuinstall.exe /install /force /match 2004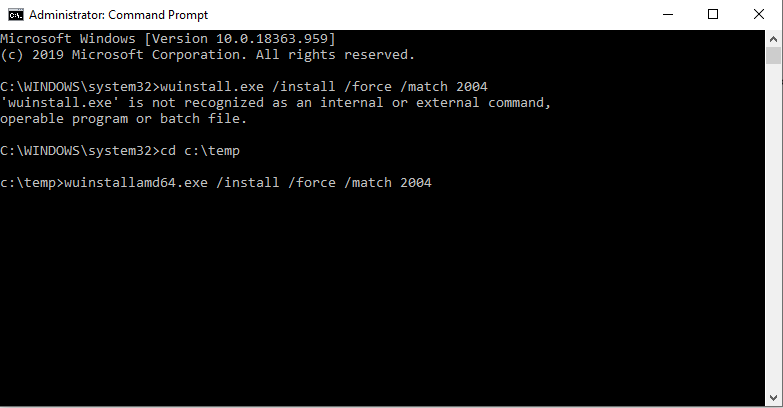 WuInstall is a Windows patch management software, which makes it possible to install Windows Updates on demand using the command line. It allows administrators to update several workstations at once (e.g. run WuInstall in shutdown scripts) or workstations of users who turned off Windows Automatic Updates.Given all the recent changes to work and home life, we are focused on meeting you where you are and helping you adapt to these new challenges. We have often noted that being on the latest version of Windows 10 provides you with the latest features, security improvements and control. This is even more true today. The May 2020 Update offers many new features that can save you time, make you more productive and help you have fun – in addition to further enhancing your control and choices related to updates. Find out more in the "What's new in the Windows 10 May 2020 Update" blog.
Do you need more than a command line tool? Check out XEOX!