Microsoft Patch Tuesday, March 2021 Edition
Microsoft released updates to plug at least 82 security holes in its Windows operating systems and other software. Ten of the 82 vulnerabilities are marked as "critical", meaning malware or miscreants could use them to seize remote control over unpatched systems with little or no help from users.
Yes, it's time once again to use WuInstall!
Get back full control on windows update by using Wuinstall.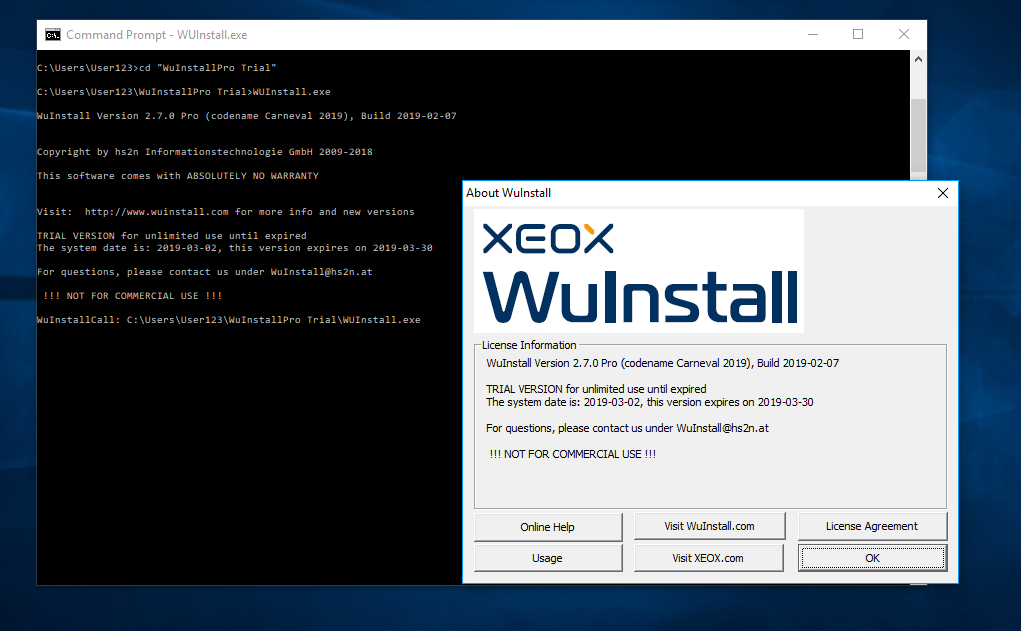 The March 2021 Patch Tuesday Security Updates
Security Updates are available for the following software:
Application Virtualization
Azure
Azure DevOps
Azure Sphere
Internet Explorer
Microsoft ActiveX
Microsoft Exchange Server
Microsoft Edge (Chromium-based)
Microsoft Graphics Component
Microsoft Office
Microsoft Office Excel
Microsoft Office PowerPoint
Microsoft Office SharePoint
Microsoft Office Visio
Microsoft Windows Codecs Library
Power BI
Role: DNS Server
Role: Hyper-V
Visual Studio
Visual Studio Code
Windows Admin Center
Windows Container Execution Agent
Windows DirectX
Windows Error Reporting
Windows Event Tracing
Windows Extensible Firmware Interface
Windows Folder Redirection
Windows Installer
Windows Media
Windows Overlay Filter
Windows Print Spooler Components
Windows Projected File System Filter Driver
Windows Registry
Windows Remote Access API
Windows Storage Spaces Controller
Windows Update Assistant
Windows Update Stack
Windows UPnP Device Host
Windows User Profile Service
Windows WalletService
Windows Win32K
Information about the updates:
Windows 10 updates are cumulative. The monthly security release includes all security fixes for vulnerabilities that affect Windows 10, in addition to non-security updates. The updates are available via the Microsoft Update Catalog. For information on lifecycle and support dates for Windows 10 operating systems, please see Windows Lifecycle Facts Sheet.
Microsoft is improving Windows Release Notes. For more information, please see What's next for Windows release notes.
A list of the latest servicing stack updates for each operating system can be found in ADV990001. This list will be updated whenever a new servicing stack update is released. It is important to install the latest servicing stack update.
In addition to security changes for the vulnerabilities, updates include defense-in-depth updates to help improve security-related features.
Customers running Windows 7, Windows Server 2008 R2, or Windows Server 2008 need to purchase the Extended Security Update to continue receiving security updates. See 4522133 for more information.
The following KBs contain information about known issues with the security updates.
| KB ARTICLE | APPLIES TO |
| --- | --- |
| 5000802 | Windows 10, Version 2004, Windows Server, Version 2004 |
| 5000803 | Windows 10, Version 1607, Windows Server 2016 |
| 5000808 | Windows 10, Version 1909, Windows Server, Version 1909 |
| 5000822 | Windows 10, Version 1809, Windows Server 2019 |
| 5000840 | Windows Server 2012 (Security-only update) |
| 5000841 | Windows 7, Windows Server 2008 R2 (Monthly Rollup) |
| 5000844 | Windows Server 2008 (Monthly Rollup) |
| 5000847 | Windows Server 2012 (Monthly Rollup) |
| 5000848 | Windows 8.1, Windows RT 8.1, Windows Server 2012 R2 (Monthly Rollup) |
| 5000851 | Windows 7, Windows Server 2008 R2 (Security-only update) |
| 5000853 | Windows 8.1, Windows RT 8.1, Windows Server 2012 R2 (Security-only update) |
| 5000856 | Windows Server 2008 (Security-only update) |
| 5000871 | Microsoft Exchange Server 2019, 2016 and 2013 |
| 5000978 | Microsoft Exchange Server 2010 |
More Information:
https://krebsonsecurity.com/2021/04/microsoft-patch-tuesday-april-2021-edition/
https://msrc.microsoft.com/update-guide/releaseNote/2021-Apr
https://wuinstall.com/index.php/blog-list/item/24-how-to-force-windows-2004-feature-upgrade-os-build-19041-to-install-using-the-command-line.html
https://windowsreport.com/windows-10-patch-tuesday-update-history/