Microsoft Patch Tuesday, July 2020 Edition
Microsoft has released its July 2020 Patch Tuesday update, addressing a total of 123 security vulnerabilities across 13 products. This is the second-largest security update ever released by Microsoft. The largest one was released last month with 129 fixes. Of the 123 security bugs fixed this month, 18 are listed as 'Critical', while 105 flaws are 'Important' in severity.
Yes, it's time once again to use WuInstall!
The most newsworthy fix this month is for a critical rated bug in Windows DNS Server, which could allow hackers to perform remote code execution. Indexed as CVE-2020-1350, this vulnerability can be easily weaponised to create wormable malware, according to researchers. The bug earned the highest-severity CVSS score of 10 from Microsoft security team.
Get back full control on windows update by using Wuinstall.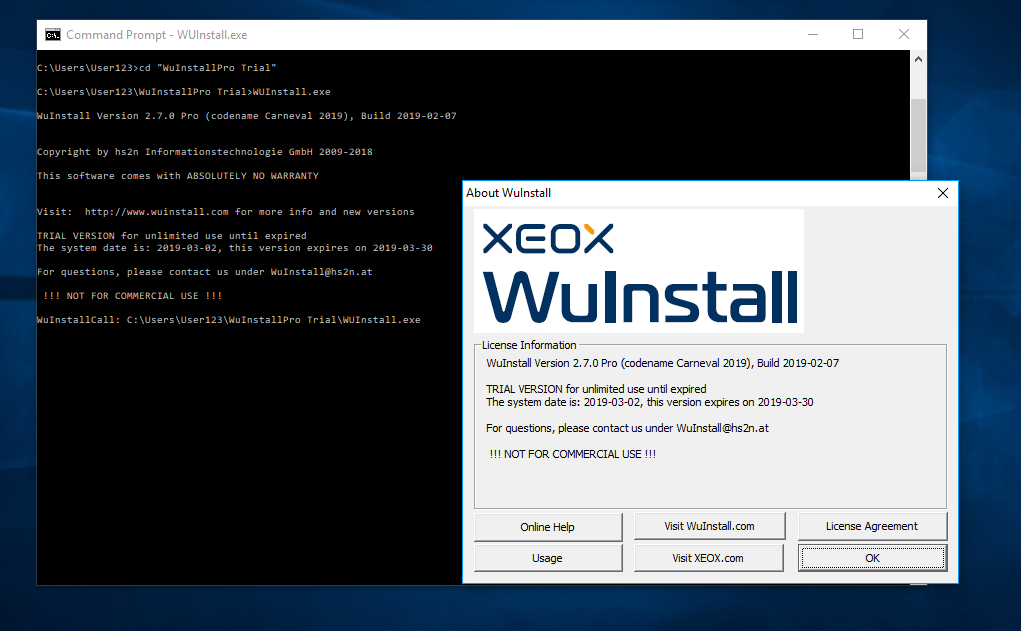 The July 2020 Patch Tuesday Security Updates
Below is some useful information about today's Patch Tuesday, but also the security updates released by other companies this month, which sysadmins might also need to address as well, besides Microsoft's batch.
| TAG | CVE ID | CVE TITLE |
| --- | --- | --- |
| Windows IIS | ADV200008 | Microsoft Guidance for Enabling Request Smuggling Filter on IIS Servers |
| .NET Framework | CVE-2020-1147 | .NET Framework, SharePoint Server, and Visual Studio Remote Code Execution Vulnerability |
| Azure DevOps | CVE-2020-1326 | Azure DevOps Server Cross-site Scripting Vulnerability |
| Internet Explorer | CVE-2020-1432 | Skype for Business via Internet Explorer Information Disclosure Vulnerability |
| Microsoft Edge | CVE-2020-1433 | Microsoft Edge PDF Information Disclosure Vulnerability |
| Microsoft Edge | CVE-2020-1462 | Skype for Business via Microsoft Edge (EdgeHTML-based) Information Disclosure Vulnerability |
| Microsoft Graphics Component | CVE-2020-1355 | Windows Font Driver Host Remote Code Execution Vulnerability |
| Microsoft Graphics Component | CVE-2020-1468 | Windows GDI Information Disclosure Vulnerability |
| Microsoft Graphics Component | CVE-2020-1351 | Microsoft Graphics Component Information Disclosure Vulnerability |
| Microsoft Graphics Component | CVE-2020-1436 | Windows Font Library Remote Code Execution Vulnerability |
| Microsoft Graphics Component | CVE-2020-1435 | GDI+ Remote Code Execution Vulnerability |
| Microsoft Graphics Component | CVE-2020-1412 | Microsoft Graphics Components Remote Code Execution Vulnerability |
| Microsoft Graphics Component | CVE-2020-1409 | DirectWrite Remote Code Execution Vulnerability |
| Microsoft Graphics Component | CVE-2020-1408 | Microsoft Graphics Remote Code Execution Vulnerability |
| Microsoft Graphics Component | CVE-2020-1397 | Windows Imaging Component Information Disclosure Vulnerability |
| Microsoft Graphics Component | CVE-2020-1381 | Windows Graphics Component Elevation of Privilege Vulnerability |
| Microsoft Graphics Component | CVE-2020-1382 | Windows Graphics Component Elevation of Privilege Vulnerability |
| Microsoft JET Database Engine | CVE-2020-1407 | Jet Database Engine Remote Code Execution Vulnerability |
| Microsoft JET Database Engine | CVE-2020-1400 | Jet Database Engine Remote Code Execution Vulnerability |
| Microsoft JET Database Engine | CVE-2020-1401 | Jet Database Engine Remote Code Execution Vulnerability |
| Microsoft Malware Protection Engine | CVE-2020-1461 | Microsoft Defender Elevation of Privilege Vulnerability |
| Microsoft Office | CVE-2020-1445 | Microsoft Office Information Disclosure Vulnerability |
| Microsoft Office | CVE-2020-1446 | Microsoft Word Remote Code Execution Vulnerability |
| Microsoft Office | CVE-2020-1349 | Microsoft Outlook Remote Code Execution Vulnerability |
| Microsoft Office | CVE-2020-1439 | PerformancePoint Services Remote Code Execution Vulnerability |
| Microsoft Office | CVE-2020-1240 | Microsoft Excel Remote Code Execution Vulnerability |
| Microsoft Office | CVE-2020-1458 | Microsoft Office Remote Code Execution Vulnerability |
| Microsoft Office | CVE-2020-1442 | Office Web Apps XSS Vulnerability |
| Microsoft Office | CVE-2020-1449 | Microsoft Project Remote Code Execution Vulnerability |
| Microsoft Office | CVE-2020-1447 | Microsoft Word Remote Code Execution Vulnerability |
| Microsoft Office | CVE-2020-1448 | Microsoft Word Remote Code Execution Vulnerability |
| Microsoft Office SharePoint | CVE-2020-1456 | Microsoft Office SharePoint XSS Vulnerability |
| Microsoft Office SharePoint | CVE-2020-1454 | Microsoft SharePoint Reflective XSS Vulnerability |
| Microsoft Office SharePoint | CVE-2020-1342 | Microsoft Office Information Disclosure Vulnerability |
| Microsoft Office SharePoint | CVE-2020-1443 | Microsoft SharePoint Spoofing Vulnerability |
| Microsoft Office SharePoint | CVE-2020-1450 | Microsoft Office SharePoint XSS Vulnerability |
| Microsoft Office SharePoint | CVE-2020-1444 | Microsoft SharePoint Remote Code Execution Vulnerability |
| Microsoft Office SharePoint | CVE-2020-1451 | Microsoft Office SharePoint XSS Vulnerability |
| Microsoft OneDrive | CVE-2020-1465 | Microsoft OneDrive Elevation of Privilege Vulnerability |
| Microsoft Scripting Engine | CVE-2020-1403 | VBScript Remote Code Execution Vulnerability |
| Microsoft Windows | CVE-2020-1406 | Windows Network List Service Elevation of Privilege Vulnerability |
| Microsoft Windows | CVE-2020-1410 | Windows Address Book Remote Code Execution Vulnerability |
| Microsoft Windows | CVE-2020-1085 | Windows Function Discovery Service Elevation of Privilege Vulnerability |
| Microsoft Windows | CVE-2020-1402 | Windows ActiveX Installer Service Elevation of Privilege Vulnerability |
| Microsoft Windows | CVE-2020-1330 | Windows Mobile Device Management Diagnostics Information Disclosure Vulnerability |
| Microsoft Windows | CVE-2020-1431 | Windows AppX Deployment Extensions Elevation of Privilege Vulnerability |
| Microsoft Windows | CVE-2020-1405 | Windows Mobile Device Management Diagnostics Elevation of Privilege Vulnerability |
| Microsoft Windows | CVE-2020-1404 | Windows Runtime Elevation of Privilege Vulnerability |
| Microsoft Windows | CVE-2020-1438 | Windows Network Connections Service Elevation of Privilege Vulnerability |
| Microsoft Windows | CVE-2020-1430 | Windows UPnP Device Host Elevation of Privilege Vulnerability |
| Microsoft Windows | CVE-2020-1429 | Windows Error Reporting Manager Elevation of Privilege Vulnerability |
| Microsoft Windows | CVE-2020-1463 | Windows SharedStream Library Elevation of Privilege Vulnerability |
| Microsoft Windows | CVE-2020-1437 | Windows Network Location Awareness Service Elevation of Privilege Vulnerability |
| Microsoft Windows | CVE-2020-1434 | Windows Sync Host Service Elevation of Privilege Vulnerability |
| Microsoft Windows | CVE-2020-1427 | Windows Network Connections Service Elevation of Privilege Vulnerability |
| Microsoft Windows | CVE-2020-1413 | Windows Runtime Elevation of Privilege Vulnerability |
| Microsoft Windows | CVE-2020-1333 | Group Policy Services Policy Processing Elevation of Privilege Vulnerability |
| Microsoft Windows | CVE-2020-1428 | Windows Network Connections Service Elevation of Privilege Vulnerability |
| Microsoft Windows | CVE-2020-1249 | Windows Runtime Elevation of Privilege Vulnerability |
| Microsoft Windows | CVE-2020-1267 | Local Security Authority Subsystem Service Denial of Service Vulnerability |
| Microsoft Windows | CVE-2020-1399 | Windows Runtime Elevation of Privilege Vulnerability |
| Microsoft Windows | CVE-2020-1365 | Windows Event Logging Service Elevation of Privilege Vulnerability |
| Microsoft Windows | CVE-2020-1366 | Windows Print Workflow Service Elevation of Privilege Vulnerability |
| Microsoft Windows | CVE-2020-1359 | Windows CNG Key Isolation Service Elevation of Privilege Vulnerability |
| Microsoft Windows | CVE-2020-1363 | Windows Picker Platform Elevation of Privilege Vulnerability |
| Microsoft Windows | CVE-2020-1370 | Windows Runtime Elevation of Privilege Vulnerability |
| Microsoft Windows | CVE-2020-1373 | Windows Network Connections Service Elevation of Privilege Vulnerability |
| Microsoft Windows | CVE-2020-1374 | Remote Desktop Client Remote Code Execution Vulnerability |
| Microsoft Windows | CVE-2020-1371 | Windows Event Logging Service Elevation of Privilege Vulnerability |
| Microsoft Windows | CVE-2020-1372 | Windows Mobile Device Management Diagnostics Elevation of Privilege Vulnerability |
| Microsoft Windows | CVE-2020-1356 | Windows iSCSI Target Service Elevation of Privilege Vulnerability |
| Microsoft Windows | CVE-2020-1420 | Windows Error Reporting Information Disclosure Vulnerability |
| Microsoft Windows | CVE-2020-1421 | LNK Remote Code Execution Vulnerability |
| Microsoft Windows | CVE-2020-1350 | Windows DNS Server Remote Code Execution Vulnerability |
| Microsoft Windows | CVE-2020-1418 | Windows Diagnostics Hub Elevation of Privilege Vulnerability |
| Microsoft Windows | CVE-2020-1422 | Windows Runtime Elevation of Privilege Vulnerability |
| Microsoft Windows | CVE-2020-1353 | Windows Runtime Elevation of Privilege Vulnerability |
| Microsoft Windows | CVE-2020-1354 | Windows UPnP Device Host Elevation of Privilege Vulnerability |
| Microsoft Windows | CVE-2020-1347 | Windows Storage Services Elevation of Privilege Vulnerability |
| Microsoft Windows | CVE-2020-1352 | Windows USO Core Worker Elevation of Privilege Vulnerability |
| Microsoft Windows | CVE-2020-1375 | Windows COM Server Elevation of Privilege Vulnerability |
| Microsoft Windows | CVE-2020-1390 | Windows Network Connections Service Elevation of Privilege Vulnerability |
| Microsoft Windows | CVE-2020-1391 | Windows Agent Activation Runtime Information Disclosure Vulnerability |
| Microsoft Windows | CVE-2020-1386 | Connected User Experiences and Telemetry Service Information Disclosure Vulnerability |
| Microsoft Windows | CVE-2020-1387 | Windows Push Notification Service Elevation of Privilege Vulnerability |
| Microsoft Windows | CVE-2020-1395 | Windows Elevation of Privilege Vulnerability |
| Microsoft Windows | CVE-2020-1398 | Windows Lockscreen Elevation of Privilege Vulnerability |
| Microsoft Windows | CVE-2020-1393 | Windows Diagnostics Hub Elevation of Privilege Vulnerability |
| Microsoft Windows | CVE-2020-1394 | Windows Elevation of Privilege Vulnerability |
| Microsoft Windows | CVE-2020-1385 | Windows Credential Picker Elevation of Privilege Vulnerability |
| Microsoft Windows | CVE-2020-1384 | Windows CNG Key Isolation Service Elevation of Privilege Vulnerability |
| Open Source Software | CVE-2020-1469 | Bond Denial of Service Vulnerability |
| Skype for Business | CVE-2020-1025 | Microsoft Office Elevation of Privilege Vulnerability |
| Visual Studio | CVE-2020-1416 | Visual Studio and Visual Studio Code Elevation of Privilege Vulnerability |
| Visual Studio | CVE-2020-1481 | Visual Studio Code ESLint Extention Remote Code Execution Vulnerability |
| Windows Hyper-V | CVE-2020-1041 | Hyper-V RemoteFX vGPU Remote Code Execution Vulnerability |
| Windows Hyper-V | CVE-2020-1040 | Hyper-V RemoteFX vGPU Remote Code Execution Vulnerability |
| Windows Hyper-V | CVE-2020-1032 | Hyper-V RemoteFX vGPU Remote Code Execution Vulnerability |
| Windows Hyper-V | CVE-2020-1036 | Hyper-V RemoteFX vGPU Remote Code Execution Vulnerability |
| Windows Hyper-V | CVE-2020-1042 | Hyper-V RemoteFX vGPU Remote Code Execution Vulnerability |
| Windows Hyper-V | CVE-2020-1043 | Hyper-V RemoteFX vGPU Remote Code Execution Vulnerability |
| Windows Kernel | CVE-2020-1367 | Windows Kernel Information Disclosure Vulnerability |
| Windows Kernel | CVE-2020-1396 | Windows ALPC Elevation of Privilege Vulnerability |
| Windows Kernel | CVE-2020-1336 | Windows Kernel Elevation of Privilege Vulnerability |
| Windows Kernel | CVE-2020-1419 | Windows Kernel Information Disclosure Vulnerability |
| Windows Kernel | CVE-2020-1426 | Windows Kernel Information Disclosure Vulnerability |
| Windows Kernel | CVE-2020-1358 | Windows Resource Policy Information Disclosure Vulnerability |
| Windows Kernel | CVE-2020-1388 | Windows Elevation of Privilege Vulnerability |
| Windows Kernel | CVE-2020-1389 | Windows Kernel Information Disclosure Vulnerability |
| Windows Kernel | CVE-2020-1357 | Windows System Events Broker Elevation of Privilege Vulnerability |
| Windows Kernel | CVE-2020-1411 | Windows Kernel Elevation of Privilege Vulnerability |
| Windows Shell | CVE-2020-1415 | Windows Runtime Elevation of Privilege Vulnerability |
| Windows Shell | CVE-2020-1360 | Windows Profile Service Elevation of Privilege Vulnerability |
| Windows Shell | CVE-2020-1414 | Windows Runtime Elevation of Privilege Vulnerability |
| Windows Shell | CVE-2020-1368 | Windows Credential Enrollment Manager Service Elevation of Privilege Vulnerability |
| Windows Subsystem for Linux | CVE-2020-1423 | Windows Subsystem for Linux Elevation of Privilege Vulnerability |
| Windows Update Stack | CVE-2020-1392 | Windows Elevation of Privilege Vulnerability |
| Windows Update Stack | CVE-2020-1346 | Windows Modules Installer Elevation of Privilege Vulnerability |
| Windows Update Stack | CVE-2020-1424 | Windows Update Stack Elevation of Privilege Vulnerability |
| Windows WalletService | CVE-2020-1344 | Windows WalletService Elevation of Privilege Vulnerability |
| Windows WalletService | CVE-2020-1364 | Windows WalletService Denial of Service Vulnerability |
| Windows WalletService | CVE-2020-1369 | Windows WalletService Elevation of Privilege Vulnerability |
| Windows WalletService | CVE-2020-1361 | Windows WalletService Information Disclosure Vulnerability |
| Windows WalletService | CVE-2020-1362 | Windows WalletService Elevation of Privilege Vulnerability |
More Information:
https://krebsonsecurity.com/tag/microsoft-patch-tuesday-july-2020/
https://portal.msrc.microsoft.com/en-us/security-guidance/releasenotedetail/2020-Jul
https://wuinstall.com/index.php/blog-list/item/24-how-to-force-windows-2004-feature-upgrade-os-build-19041-to-install-using-the-command-line.html
https://windowsreport.com/windows-10-patch-tuesday-update-history/
KB4558998
KB4565483
KB4565511
KB4565524
KB4565529
KB4565535
KB4565536
KB4565537
KB4565539
KB4565540
KB4565541